Kieron Pollard slams Aakash Chopra for his comment's on all-rounder's performance in IPL 2022
Kieron Pollard slams Aakash Chopra for his comment's on all-rounder's performance in IPL 2022
Aakash Chopra
Kieron Pollard slams Aakash Chopra for his comment's on all-rounder's performance in IPL 2022
Kieron Pollard On Aakash Chopra: IPL 2022 was no less than a nightmare for Mumbai Indians. Mumbai had to face defeat in 10 matches in IPL 2022, due to which the team could not reach the playoffs. Now Mumbai Indians' star all-rounder Kieron Pollard has reprimanded an Indian legend. 
Pollard reprimanded 
Kieron Pollard posted a tweet from his Twitter account, but he later deleted the tweet. Now this tweet has gone viral on social media. Pollard wrote in it, 'The fan base and followers must have increased. Keep going like this. 
In this he also tagged commentator Aakash Chopra. Aakash Chopra criticized Pollard for his poor performance during the IPL on his YouTube channel. Aakash Chopra had said that Kieron Pollard has played his IPL season and the Mumbai Indians team can release him.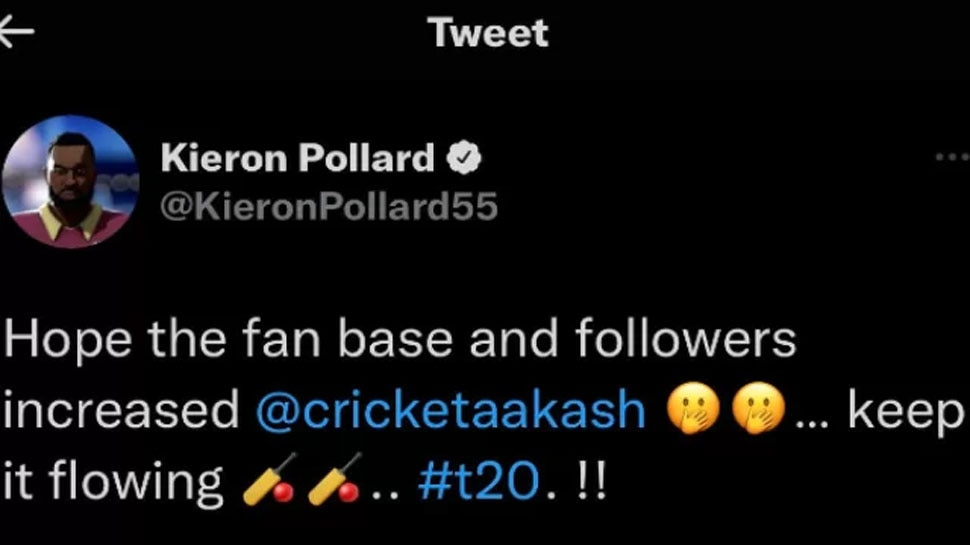 Pollard did poorly 
In IPL 2022, Kieron Pollard was struggling with very poor form, runs were not coming off his bat. He was longing to stay on the crease far away from scoring runs. He took 141 runs and 4 wickets in 11 matches of IPL 2022. 
The team had to pay the brunt of Pollard's poor form by losing. Rohit Sharma also showed him the way out of the playing XI. Pollard has already taken retirement from international cricket. 
Mumbai's star players flopped 
The batsmen of Mumbai Indians could not show a wonderful game in IPL 2022. Captain Rohit Sharma, Ishan Kishan flopped badly. At the same time, there was no edge in the bowling either. 
Mumbai Indians were first out of the race for the playoffs in IPL 2022. Mumbai Indians have won the IPL title five times under the captaincy of superstar batsman Rohit Sharma. In IPL 2022, Mumbai team could win only 4 matches.