Is MS Dhoni doing election duty after IPL 2022? Know what is happening
Is MS Dhoni doing election duty after IPL 2022? Know what is happening
IPL
Is MS Dhoni doing election duty after IPL 2022? Know what is happening
CSK's journey in IPL 2022 has been completed. This season under the captaincy of MS Dhoni, this team was ranked 9th in the points table. Dhoni hails from Ranchi, the capital of Jharkhand, Panchayat elections are currently being held in Jharkhand. 
If we tell you that Dhoni (MS Dhoni) is engaged in election duty for the ongoing elections in Jharkhand, then you will be surprised. Actually, a photo is becoming quite viral on social media, in which a person looks like Dhoni and the fans are telling this Dhoni only. What is this whole matter.
Full truth of viral photo
Due to a viral photo, the name of Dhoni (MS Dhoni) has been associated with the ongoing Panchayat elections in Jharkhand. Actually, during election duty in Ranchi, people have mistook a person as MS Dhoni. This person of Dhoni's exact face is Vivek Kumar, who is an assistant manager in a department of CCL. He is engaged in election duty and is doing duty at the counting center. Vivek Kumar has been put in the third phase of elections. The texture of his face is like that of MS Dhoni.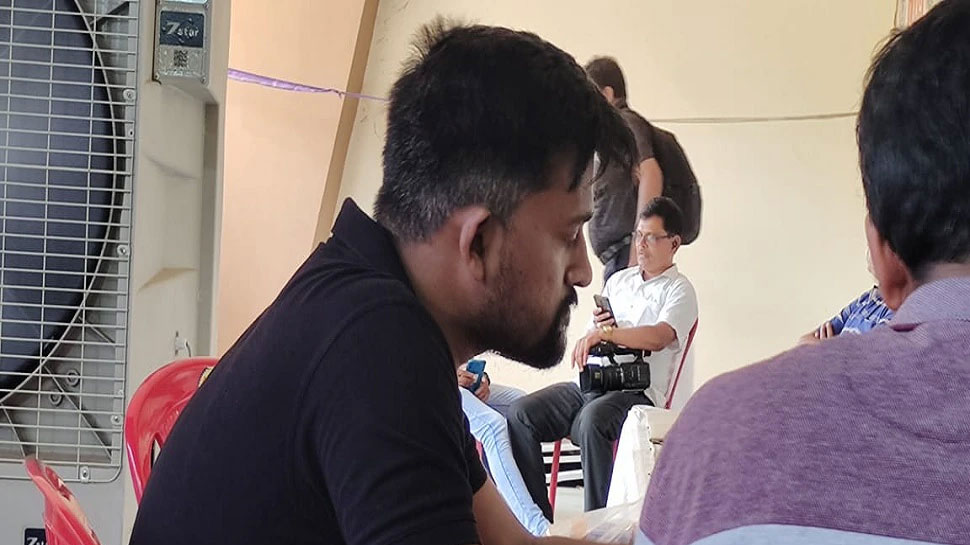 Dhoni will also play in IPL 2023
Chennai Super Kings (CSK) played the last match in IPL 2022 against Rajasthan. In this match, Dhoni (MS Dhoni) had revealed that this is not his last match for CSK, he will play further in the IPL. 
Dhoni had said, 'Certainly, it is a simple reason, it would be unfair to not play my last match in Chennai and thank the fans. Mumbai is a place where I have received a lot of love and affection as a team and as an individual. Dhoni had further said, 'Next year there will be an opportunity where the teams will travel. So it will be thanks to all the different places where we play at different places.
Dhoni's performance in season 15
IPL 2022 has been very good for MS Dhoni. The team may not have done anything special in the season, but MS Dhoni played many great innings. In this season, MS Dhoni scored 232 runs in 14 matches at an average of 33.14. In this season, he also scored 1 half-century. MS Dhoni can be seen captaining Chennai Super Kings in the next season as well.