Suresh Raina writes an interesting comment for CSK on THIS post
Suresh Raina writes an interesting comment for CSK on THIS post
Chennai Super Kings
Suresh Raina writes an interesting comment for CSK on THIS post
Suresh Raina Comment On CSK Post: Suresh Raina was unsold in the mega auction of IPL 2022. CSK was also in no mood to take Suresh Raina back. Whenever Chennai's team is losing a match in IPL 2022, the fans remember Raina the most.
Raina, popularly known as Mr IPL, has recently made a comment on social media, which has become quite viral on seeing. Let us tell you what is so special about this comment.
Suresh Raina's viral comment
Suresh Raina has stepped into Hindi commentary this time. Even during his commentary, Raina praises the Chennai team fiercely. Recently, CSK had put a special post on the Instagram handle regarding Dhoni.
Former team player Raina also commented on this post. CSK wrote on the post, 'Whenever Dhoni comes on the field, people shout Dhoni-Dhoni and nothing better than this.' After posting this, Raina wrote in the comment, 'Imagine CSK without Dhoni.' Seeing him this comment has become quite viral.
See Raina's comment here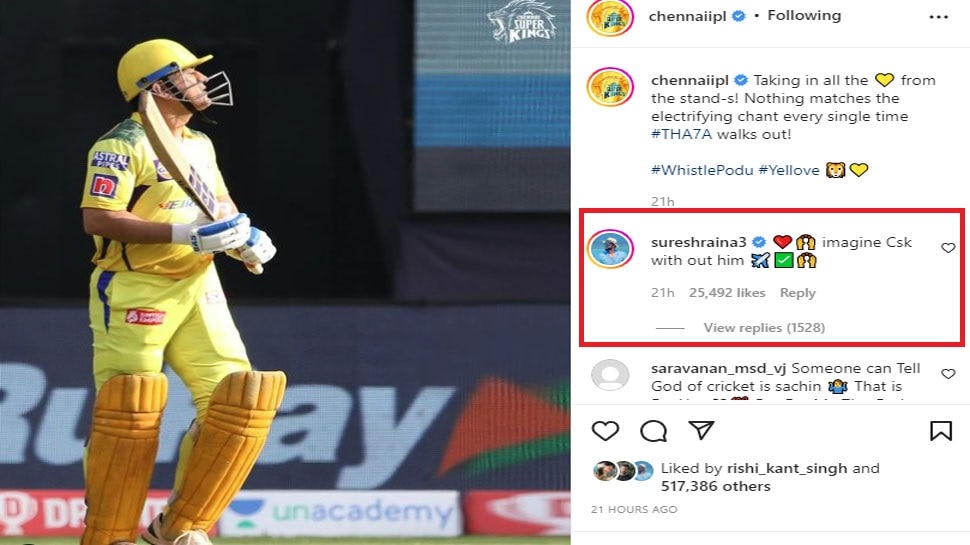 CSK made 4 times champion
Under the captaincy of MS Dhoni, Chennai Super Kings (CSK) has won the IPL title 4 times. It is very difficult for any fan to think of CSK without Dhoni.
MS Dhoni has been a part of the team of Chennai Super Kings (CSK) since 2008 IPL. MS Dhoni has played a total of 233 matches in IPL in which he has scored 4952 runs at an average of 39.30.
Raina's IPL career 
Suresh Raina is one of the most successful batsmen in IPL history. Suresh Raina has played for the team of Chennai (CSK) since the first season. In between, this player has also been the captain of Gujarat Lions for 2 seasons.
Raina played a total of 205 matches in his career, in which he has scored 5528 runs. Raina played 39 half-centuries with 1 century. Raina has played an important role in all the title victories of CSK.